Burkitt's is a high-grade, rapidly proliferating, B-cell NHL, that commonly affects children.
Overview
In the UK Burkitt's is relatively uncommon, with around 210 cases each year. It is the most common NHL in children in the UK and it more frequently affects males.
It may be grouped into three types:
Endemic: Strongly associated with Epstein-Barr virus (EBV), and follows the distribution of malaria. It is often seen in equatorial Africa.
Sporadic: Less commonly associated with EBV, often seen in Europe and North America.
Immunodeficiency: Associated with AIDs or in other conditions / medications that lead to immunosuppression.
It is caused by mutation to c-myc proto-oncogene. This most commonly occurs due to a translocation between chromosomes 8 and 14, t(8;14)(q24;q32).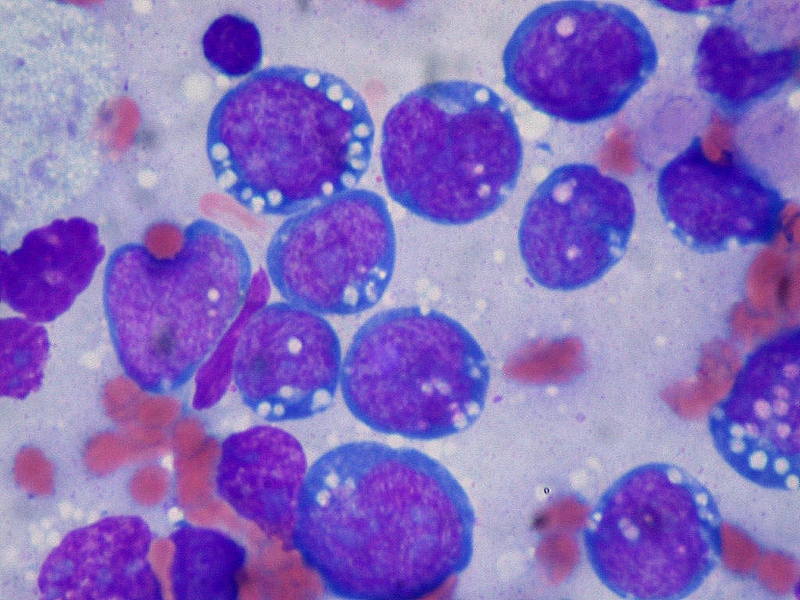 Burkitts lymphoma, touch prep, Wright stain
Presentation
Endemic Burkitt's classically presents with a rapidly enlarging tumour in the jaw of a child. It can also present with enlarged lymph nodes in the neck and abdominal masses.
Sporadic Burkitt's more commonly presents with abdominal symptoms, with the ileoceacal valve often affected. It may present with bowel obstruction.
Fever, weight loss and night sweats may all be present.
Management
As with all areas of NHL, treatment is complex and depends on the patients health, wishes and disease type. As with most high-grade lymphomas it is highly chemosensitive.
First line treatment frequently involves intensive immunochemotherapy, options include:
R-BFM
R-CODOX-M/R-IVAC
R-HyperCVAD (HDMTX)
R-LMB
Less intensive immunochemotherapy options are available for those not suitable for more intense options, including R-CHOP, R-CHEOP and DA-EPOCH-R.
In those with lower risk disease DA-EPOCH-R regimen may be used with methotrexate (intravenous and/or intrathecal).
Due to rapid tumour breakdown on the initiation of treatment the risk of tumour lysis syndrome is high and prophylactic treatment is normally required.